What we do
We develop easy-to-use map-based guidebook Apps for Android™ and iPhone™.
We are a modern-day guidebook/tourist guide publisher. We're not a generalized App developer, we focus on location-specific content that requires maps.
If your content simply has to work all of the time and everywhere, despite a poor or complete lack of internet connection, then our App technology is for you.
Information that has a location component suits this platform. For example, a guidebook for a tourism areas such as Margaret River WA, a guide for a remote mountaineering area, a mountain biking area guide or a guide to a large hiking track such as WA's Bibbulmun Track or Tasmania's Overland Track.
We incorporate excellent GPS-navigatible maps, photos and content that does not stop working when the internet disconnects. The internet is used when available for updating content, linking to external websites and background services.
Grandma Technology combines the best features of traditional printed guidebooks and modern websites and leaves behind the worst features.
For printed guides, bad features such as being less portable, not easily updated and not supporting navigation. And for websites, bad features such as not working without internet connectivity, being slow, and not being good at giving information in the context of your exact current location.
It's as easy as you assembling the content and we take care of all of the technical hurdles to publish your App on our innovative software platform. It's cheap, simple and fast.
Grandma Technology's core value is to provide technology that is dead easy to use.
Download our FREE Margaret River Region Guide App
Do you want to make it incredibly simple for your visitors to find all the best places to see and things to do?
Our Apps not only show visitors what to do, see and experience, but show them how to get to the fun with ease far superior to printed guides and websites.
We have developed a software platform to create convenient and simple-to-use travel guide Apps for Android and iPhone.
Our Apps do not need the Internet to show users where to go and what to do. Hence, they work everywhere and are fast.
If you are looking to boost your traditional marketing toolkit with an App that can be easily monetised, then we can make that happen.
We provide the technology and know-how, and you—the author—provide the content under our guidance.
You will improve your visitors' experience by making it a pleasure to find everything they are looking for.
Positively increasing visitor engagement and making them happy will help you to build your brand.
After all, happy visitors will tell others and are more likely to stay longer or to return themselves.
With Grandma Technology, it's extremely affordable and quick to produce a very high-quality App for an entire tourism region, or for a specialty guide type such as a wildflower self-drive guide, a hiking guide or a mountain biking guide.
The possibilities are exciting.
Engaging
SIMPLE TO USE
Because we keep it simple, people enjoy using our Apps. Bottom line is if it's simple, useful, quick and always available, people will use it.
Our Apps integrate photos, information, maps and smartphone features such as GPS, email and websites to give people everything in one place, keeping them engaged with the App.
Reliable
SUPERIOR TO WEBSITES
Our Apps present information based on your exact location far easier than a website can.
Images, written content and the innovative map technology are stored on each device. Everything works even when the internet connection is poor or non-existent. Turn on GPS and never get lost again. Not only is this convenient, its reliable and safe. No danger of the maps stopping working when you are deep in the forest trying to get home!
Convenient
SUPERIOR TO PRINT
Everything a user needs in one place. Content is never out of date thanks to updates from our cloud server (try doing that with a paper guide).
Because the App is on a phone and a user always has their phone, the information is always with them. Even when the internet is not working. How convenient!
But don't Apps cost a lot and take about a year to develop?
Once your content is ready, we use our innovative core technology to produce your complete, working App in just 2-4 weeks. This means you get your App quickly, and at an extremely affordable price. If you are a paper-guidebook author looking to update your content from print to electronic, or a tourism association looking to develop a tool to highlight your region, or Joe or Jane Adventurer who have a great idea for a guide, we're waiting to hear from you.
Contact us today. We'll look at how your idea fits with our technology and provide you honest, no-nonsense feedback with absolutely no obligation to you. We're happy to chat and answer any questions.
 Our Apps are easy-to-use, comprehensive, reliable and always up-to-date. It's the future of publishing.
Grandma Technology
ABN: 81 798 026 861
+61 (0) 8 9759 1451
info@grandma.technology
WA Tourism Award 2016 Finalist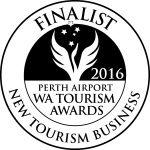 Telstra Margaret River Region Business Awards 2016