What we do
We develop easy-to-use map-based guidebook Apps for Android™.
We are a modern-day guidebook/tourist guide publisher. We're not a generalized App developer, we focus on location-specific content that requires maps.
If your content simply has to work all of the time and everywhere, despite a poor or complete lack of internet connection, then our App technology is for you.
Information that has a location component suits this platform. For example, a guidebook for a tourism areas such as Margaret River WA, a guide for a remote mountaineering area, a mountain biking area guide or a guide to a large hiking track such as WA's Bibbulmun Track or Tasmania's Overland Track.
We incorporate excellent GPS-navigatible maps, photos and content that does not stop working when the internet disconnects. The internet is used when available for updating content, linking to external websites and background services.
Grandma Technology combines the best features of traditional printed guidebooks and modern websites and leaves behind the worst features.
For printed guides, bad features such as being less portable, not easily updated and not supporting navigation. And for websites, bad features such as not working without internet connectivity, being slow, and not being good at giving information in the context of your exact current location.
It's as easy as you assembling the content and we take care of all of the technical hurdles to publish your App on our innovative software platform. It's cheap, simple and fast.
Grandma Technology's core value is to provide technology that is dead easy to use.
Grandma Technology is a small, nimble start up focused on building convenient, simple to use Android Apps for location-based information.
Co-founder Paul Morton is a software engineer with 28 years of experience. He led the corporate lifestyle for many years managing multi-million dollar projects and leading teams of up to 12 software engineers.
Following a decision to move to rural Australia, Paul consulted for many years on highly technical projects on voice and video over IP.
His experience includes embedded Linux in the kernel and user space, WiFi, audio processing on ARM processors, SoC architecture and design, audio processing and embedded RTOS software.
He then decided to have a go on his own, thus taking the first step to fulfil his dream of building his own software company. Hence, Grandma Technology was created. The co-founders' philosophy was to build something that they would like to use.
Their first product, Margaret River Find the Fun, is just that.
When not developing software, Paul can be found on his bikes, free diving, or caving with the local club. He is also an avid photographer, and has taken many of the photos used in the Margaret River Find the Fun App and website. When he travels internationally, he follows his passion of snowboarding, rock climbing and mountaineering in stunning and isolated areas.
Co-founder Rhonda Oshanek is a former biotech scientist working on Multiple Sclerosis, intestinal cancer, lymphomas and cancer genetics. She managed multi-million dollar toxicology programs for a medium sized biotech company before moving onto one of the world's leading cancer genetics groups.
There she was a senior project manager on many cutting-edge cancer genetics projects, as well as the scientific writer for over 110 employees. She helped to secure millions of dollars of funding using her grant-writing skills.
After making the sea change to rural Australia, she consulted to several medical communications companies, where she attended international conferences and wrote proceedings that were distributed to experts in the field.  She also wrote various educational tools for GPs, nurses, specialists and patients.
Rhonda now focuses on website development. Specifically, she can create an additional website that acts as the management point for entering and editing of all of the content that appears on an App. This is a valuable tool for membership-based Apps where each business creates and manages their own listing. At a more general level, she can also develop a website for your small businesses or not-for-profit organization.
When not sitting in front of her computer, Rhonda can be found riding her bikes, caving with the local club or gardening. When she travels internationally, she enjoys rock climbing and hiking in beautiful mountain settings.
Engaging
SIMPLE TO USE
Because we keep it simple, people enjoy using our Apps. Bottom line is if it's simple, useful, quick and always available, people will use it.
Our Apps integrate photos, information, maps and smartphone features such as GPS, email and websites to give people everything in one place, keeping them engaged with the App.
Reliable
SUPERIOR TO WEBSITES
Our Apps present information based on your exact location far easier than a website can.
Images, written content and the innovative map technology are stored on each device. Everything works even when the internet connection is poor or non-existent. Turn on GPS and never get lost again. Not only is this convenient, its reliable and safe. No danger of the maps stopping working when you are deep in the forest trying to get home!
Convenient
SUPERIOR TO PRINT
Everything a user needs in one place. Content is never out of date thanks to updates from our cloud server (try doing that with a paper guide).
Because the App is on a phone and a user always has their phone, the information is always with them. Even when the internet is not working. How convenient!
But don't Apps cost a lot and take about a year to develop?
Once your content is ready, we use our innovative core technology to produce your complete, working App in just 3-4 weeks. This means you get your App quickly, and at an extremely affordable price. If you are a paper-guidebook author looking to update your content from print to electronic, or a tourism association looking to develop a tool to highlight your region, or Joe or Jane Adventurer who have a great idea for a guide, we're waiting to hear from you.
Contact us today. We'll look at how your idea fits with our technology and provide you honest, no-nonsense feedback with absolutely no obligation to you. We're happy to chat and answer any questions.
 Our Apps are easy-to-use, comprehensive, reliable and always up-to-date. It's the future of publishing.
Grandma Technology
ABN: 81 798 026 861
+61 (0) 8 9759 1451
info@grandma.technology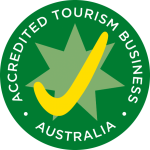 WA Tourism Award 2016 Finalist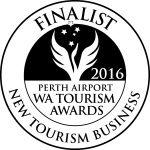 Telstra Margaret River Region Business Awards 2016